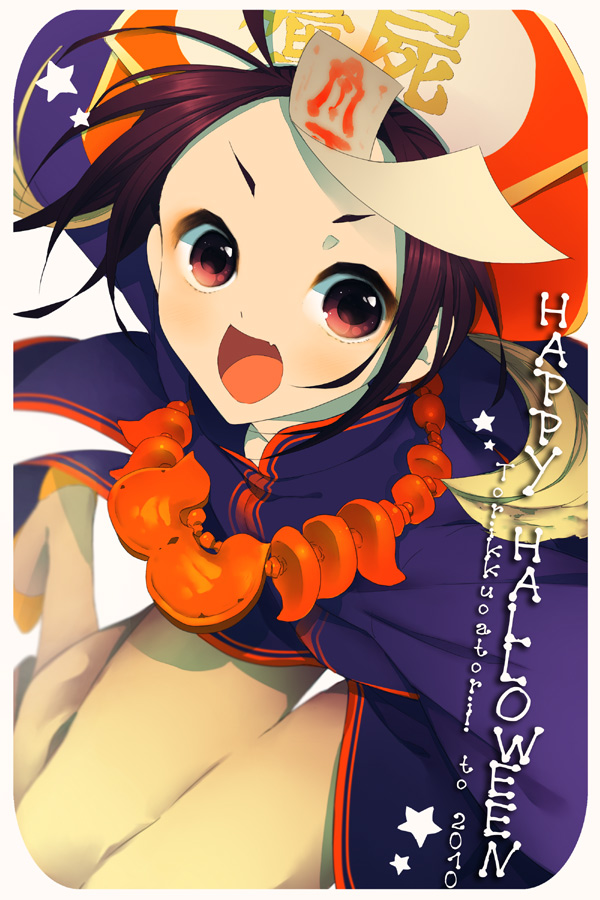 Name: Bo Yun 。(波云)
Nickname(s): None 。
Age: 19 (Actually over 100) 。
Birthday: 4th December 。
Species: Geung Si 。
Element:
Natural Born Abilities:
Weapon(s):
Floating dual Shakōkidogū
Limitations of Weapon(s):
The beams they emit can only reach a certain distance (100m). Since they are ceramic, if with a powerful enough attack they could be damaged.
His body could get injured and it is limited to hand-to-hand battle。
Explanation of Weapon: His dogū are made out of clay with a tarnished gold colour. It has faint cracks along its surface due to its age and a rounded body. Their heads are dislocated from their bodies, so float above. Flame shaped aureola float behind them and celtic patterns are engraved along their bodies' 。
Physical Appearance:
His hair is purplish-brown in colour and long, plaited back.
He resembles a child despite his age and his gender is often mistaken.
Stands at a height of 5'1" 。
Has a beauty spot on his right upper thigh.
General Attitude/Personality: Always happy, bubbly, ditzy and lively but can become dangerous and hostile when angered. He takes certain jokes seriously which could result in his deranged personality change. He can become obsessive when he discovers something or someone he's taken a liking to. He prefers things to go his way or else he becomes brutal and psychotic, even murderous in some occasions 。
Likes:
Objects capable of doing damage/murdering with.
Dislikes:
Anything that angers him.
Bad Habits:
Becoming euphoric at the sight of blood.
Stalking people within his interest .
Hopping when he's hungry.
Goals: World Domination (and death to all humans) 。
Fears:
Dark, small, confined places 。
Mother/Father: Mother (deceased) 。
Siblings: None 。
History: Yun was an only child who lived alone with his young, unmarried mother. They lived together in a small secluded village in the mountains. His mother specialised in making herbs into medicine and other herbal remedies. Since the village was heavily superstitious; they gave her the title of sorceress, witch. She healed the sick and helped the villagers with their problems, despite their behaviour towards them. Yun helped her with her work and was planning to follow in her footsteps in the future 。
One day, a man died after taking one of her medicines. The villagers took it as an act of murder but the actual cause of his death was an allergic reaction to one of the ingredients. His mother tried to explain but the villagers wouldn't listen. After the village's head approved of her being guilty, the villagers decided to perform an ancient banishing ritual 。
They believed to cast out evil, they needed to burn the source and bury the remnants. So according to tradition, they burnt Yun's home, his mother's possessions and his mother alive and put the ashes into the coffin which they were going to bury Yun in. Yun tried to escape, but only managed to hide in the forest for a night, before being discovered and put into the coffin. He was buried alive, along with his mother's ashes. After this incident, Yun developed a strong hate for humans and their ungratefulness. It also resulted in his twisted personality 。
After a few years, Yun's coffin was dug out and he was resurrected by a woman. She was a merchant who secretly practiced supernatural arts, she was called Hong. She claimed she was cured by his mother from a grave illness on one of her journeys in the past. She told him of how she was coming to visit her, before she learnt of her demise. She never told him the actual reason why she resurrected him. Maybe it was because she felt sorry for his mother, he never knew. Yun worked for the woman in compensation for her restoring his life. After many years, she decided to give Yun a break, so sent him to the Midnight Trinity to relax and meet new people 。
RP Example:
There she sat.
Her skin, the most perfect shade of white, which the sun's rays shimmered against. The scent she gave off was more delectable than any other he came across. His fingers itched to touch her plump skin. His tongue ached to explore her sweet entrails. The faint pain in his teeth accumulated, to the point of unable to bear it. He had to have her. Hands smoothed into his pocket. Rummaged round for change. Eyebrows furrowed in impatience. He had to buy that Baozi.
Other: Tans easily.