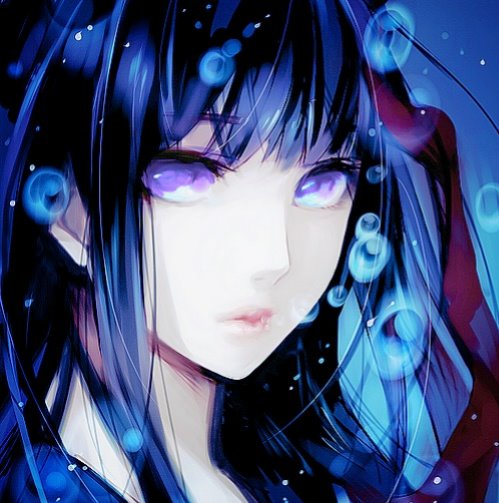 Autumn Savara Florea
Nickname(s):
Savara, Flo
Age:
162/21
Birthday:
October 25, 1845
Orientation:
Bi-sexual. Flexible.
Species:
Vampire
Element:
Fire
Natural Born Abilities:
Ability to speak to animals, inhuman speed and strength, Psionics
Weapon(s):
[color=#FBB117] Small throwing knives, Psionics
Limitations of Weapon(s):
Though they are very sharp, the steel is very thin so they may break easily and often have to be replaced. Her Psionic powers often result in faint-inducing headaches.
Explanation of Weapon:
Her throwing knives are very thin and very sharp. She carries up to five at a time, tucked away into her clothing somewhere. Her Psionic abilities make her Telepathic, as well as Telekinetic. She can also produce powerful 'waves' of energy, destroying anything in her path.
Physical Appearance:
She's about '5"8 or so and has a slender build. She has purple eyes, turning red to indicate her blood lust; she has soft, milky-white skin and long black, flowing hair that she styles according to her mood. Times being what they are, she dresses more modernly but does enjoy dressing in more older fashions [Victorian, Renaissance, ect]
General Attitude/Personality:
She's generally very quiet around new people but opens up once she feels comfortable. She tries to see the silver lining in any situation but sometimes her past and her loneliness get the better of her. Dancing makes her feel better, as does going on long walks. She's not very girly, but not all that tomboyish. She's very comfortable with her body and her chosen profession. Being what it is, she isn't afraid to flaunt a little bit.
Likes:
Butterflies, Dancing, Cards, Chess, Yoga, Arabian culture, Asian culture
Dislikes:
Arrogance, Spiders, Chauvinism, People who try to walk all over her, being seen as nothing but a 'pretty face'
Bad Habits:
Gets bored easily
Goals:
To control her Psionic powers fully, find her true place, just be happy
Fears:
Remaining alone, loosing her passion for the things she loves
Mother/Father:
Lucia Savara, Andres Florea
Siblings:
Chandler Florea
History:
Autumn was born in Mydrid, Spain in 1845. She grew up during the Vicálvaro Revolution and the 'Glorious Revolution' in which her Father and older Brother both served. In 1855, when she was about ten years old, her family fell into a scandal and were falsely accused of a multitude of crimes, two of which, were extortion and mutiny. There was a long trial and in the end, Savara and her family were striped of their title, as well as their privileges as Nobles. Her Father and Brother were dis-honorably discharged from the military and stripped of their medals and honors.
Though it was a difficult time for all, her parents decided to start over; they vowed never to return to Spain again. They moved to Europe, where Autumn was further exposed to Art, music, theater and dance. She fell in love with dancing and soon took it up. Over the next few years, her family moved all over the world; Europe, the states, and finally settled down in the Orient. When she came of age, her love of the dance took her away from home and back to Europe where she took it up professionally. It was her main source of support, and she loved it very much. She had a burning desire to learn any and all types of dances.
In 1865, when she was about twenty years old, she met a young lady, Charlotte, at a dancing audition for a production set to tour for four years. Both of them ended up securing a part in the play, and ended up working closely with one another. The two became an item, and remained as such for two years; it was the happiest Autumn ever remembered being. However her happiness was not to last. Returning home one evening, she caught her lover in bed with a strange man. Heart broken and angry, she packed her things and left the same night.
Over the next years of her life, she casually dated, men and women a like, but none of them were serious. She had a need to share her life with someone; someone special. A need so strong, it drove her to go about finding it in all the wrong ways and it only led her to further heartache. However, she hasn't given up.
While her Father hasn't served since his discharge, her brother has continued pursuing a militaristic career. Currently he's a First Lieutenant in the Air Force, part of an American unit stationed in Okinawa. Even though she's not as passionate as her Brother or Father about the Military, she did serve for a period of time. She served a total of three years, and in such time, earned herself the rank of Second Lieutenant. Having grown tired, and feeling she did her duty, she managed to get herself sent on a training mission where she was listed as MIA and later presumed dead. She still retains her uniform, and keeps it well preserved, occasionally looking at it and reminiscing.
Her travels eventually led her here to Midnight, unable to find true acceptance among a world of humans.
--
RP Example:
She sat in front of a large mirror, surrounded by bright florescent lights. She applied a thin layer of eyeliner to her eyes, highlighting with a soft lilac color. She applied some light blush to her cheeks before applying a light color lipstick. She picked up a brush and began brushing her wavy hair, all the while, a smile on her face. She then placed a set of purple and gold dangling earrings to her ears. She stood then and let the silk robe fall from her shoulders, revealing a red, purple and gold ensemble. It was an Arabian-styled dancing outfit. She reached over, grabbing a head-veil and placed it on her head, pinning it in place. She then grabbed a facial-veil, to match the top, and hooked it on the sides of the other, so it covered her nose and mouth. She then grabbed an assortment of thin, purple and gold, bracelets and slipped them onto her wrists. She checked herself in the mirror, smiled, and made her way out to the stage where five other girls, in similar outfits, joined her. They all exchanged smiles and joined hands, as part of their routine, and stood tall and proud as their music started and the giant red velvet curtain, lifted.
"Remember girls, passion~" she said as they all came into view.
--
Other:
I'll probably fill this in later ^^;