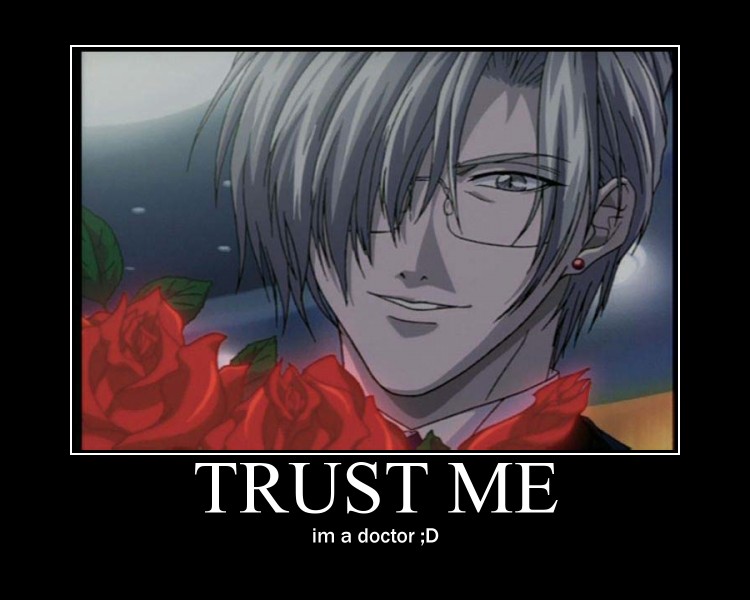 Name: Yuri Dubrovskiy
Nickname(s): Doctor
Age: 311
Birthday: November 11, 1700
Species: Demon
Element: Darkness
Natural Born Abilities: While most of it remains a mystery, he can raise and control the dead; he can summom powerful Shinigami; Has amazing strength and speed; And can also feed on the life force of others.
Weapon(s): Scalpel; Needles with deadly venom
Limitation(s) of Weapons: Both weapons require you to be up close and personal to be effective.
Physical Appearance: Yuri is roughly six-feet-four, with pale skin, a lean build and broad shoulders. His eyes are silver, as well as his hair which he wears styled short and hides his right eye. He's usually seen with a smirk on his face. Also, Yuri wears glasses, though he doesn't really need them.
General Attitude/Personality: Yuri is actually a very composed being. He is polite, formal and professional. He is easy to talk to, if one isn't intimidated by his cold looks, and even has a thing for being romantic. On the flip side, however, Yuri is also very manipulative and controlling. He can become quite obsessed when it comes to getting things that he wants, and he also tends to have violent tendencies.
Likes:
-Anatomy
-Chemicals
-Smoking cigarettes
-Taking pictures of his patients
-Sex
-Blood
-Killing
-Classical and Jazz music
-Seduction
Dislikes:
-Love
-Noisiness
-Being Hunted
Goals: Unclear
Fears: He fears love and attachment, commitment
Mother/Father: Lena Dubrovskiy/Anton Chernov
Siblings: A younger half-sister, Anya Chernov
History: In 1700, Yuri Dubrovskiy was born in Kirov, one of the poorest cities in Russia to a demon mother who had been branded by her clan as a traitor and was to be terminated. Lena had spent her life as an assassin. It was she who had taught him the basics of what he needed to know about the art of assassination and honing his natural born skills, while they lived life clanless and as refugees. Lena was killed when Yuri was only nineteen, by a former clan mate.
He tracked down his father, Anton Chernov, who at the time had no idea that he had a son. After many hard trials and training, he was accepted into his father's clan as an assassin. Yuri would later go on to slaughter his father's entire clan, including him, and only sparing Anya, who was only an infant at the time.
After the massacre of his father's clan, Yuri—over the years—would join other secret factions and agencies as a freelance assassin. Though as much as he loved the killing—since it provided for his lavish lifestyle—Yuri became more interested in medicine and anatomy.
He studied and built his credentials and became a doctor, specializing in treatment for both demons and humans alike. The more he studied, the more obscenely obsessed he became with bodies, both carnally and scientifically. Already plagued with psychological problems, Yuri became a sexual sadist at best; a serial killer at worst, using "medical techniques" on his numerous victims. He was already an assassin who enjoyed the kill, but killing in this disturbing manner became an addiction.
On the outside, Yuri was a great physician who seemed polite and well-off. He was very respected and had many connections not only in Russia, but in numerous other countries as well. Because of his worsening condition, Yuri chose not to live the life of a refugee and instead lives in plain sight, keeping his "psuedo-life" very private and secretive from everyone.
Yuri's continued research brought him to Midnight Trinity, to a school filled with potential research subjects and life force.
Other:
-Traian Volkov was his first underground patient, when he found the demon unconscious after being ambushed by three other demons.
-Yuri cannot produce "life force" on his own, so he needs to feed from others' energy as a necessity to maintain his youth, beauty and vitality, unless he'll wither away.
-His preferred methods of killing are Lethal Injection and Erotic Asphyxiation.
-Because of his fear of love and attachment, Yuri is known for murdering ones he falls in love with.