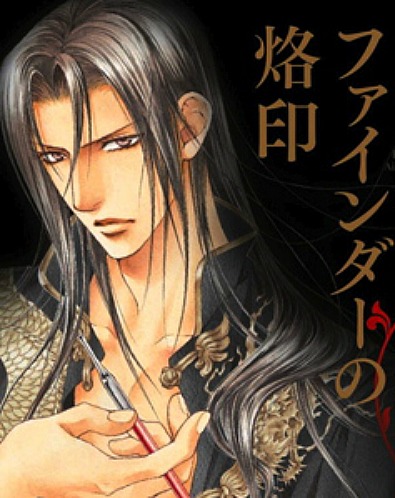 Name: Alexias Bach
Nickname(s): Lexie, Alex
Age: 98
Birthday: November 3, 1914
Species: Demon
Element: Fire
Natural Born Abilities:
- Inhuman speed and strength
- Heightened senses
-Ability to control and wield fire as powerful weapon
- Demon form
Weapon(s):
-Power of fire manifestation
- .22 caliber Smith & Wesson Revolver
Limitation of Weapon(s):
- Using fire for a long period of time drains energy.
- Standard limits such as range/distance, stability, and other unknown factors.
Explanation of Weapon(s):
- The fire can be manifested into many forms, such as a simple flame to a large fire. Also, meteor-like fireballs. The fire can span any width.
- The revolver is old-fashioned, with the polished wood handle and a metal body. The muzzle is long. The revolver is a practical choice because it can be easily concealed, it's legal, it's easily disposable, and after two shots in the head there is no splatter. That means no blood on his tailored suit.
Physical Appearance: Alexias is 6'3, with a lean-muscled build. He has long, dark hair and hooded, dark eyes. His features are chiseled and aquiline, and he's often complimented on his good looks.
General Attitude/Personality: Alexias is very sharp and quick-witted. Intelligent. He's full of sarcasm. He can also be seductive and charming when needed, as well as cruel and blood-thirsty if the situation calls for it. He takes interest in life, but he always looks out for his best interests first. Nothing hardly fazes him due to his past. Every facet of his thinking is strategic.
Likes: Sex, Cuban cigars, Chinese culture, Guns, Illegalities, Business, Tailored suits, Luxury living, Money, Dogs
Dislikes: Laziness, Sweets, Cats, Traitors, Bigotry,
Bad Habits: Inappropriately flirtatious, Chain smoking, Tendency to beat others near death, Overworking his underlings
Goals: Expanding his business, Continue to live freely
Fears: N/A
Mother/Father: Linnea Kantorowicz/Johann Kantorowicz
Siblings: None
History: In 1914, Alexias was born in Germany to two clanless demons, Johann and Linnea. Both were living amongst humans. His father wanted political power, and was a hard, stern man who made Alexias' upbringing hellish. His mother was strict, but kind, and docile when it came to her husband. So as not to stain his father's growing political reputation, Alexias was trained in secret on how to use his powers. In 1933, Johann introduced Alexias to the powerful, very influential Adolf Hitler, who had just been appointed Chancellor of Germany. Though Alexias thought little of him, his father wanted him to use his "special speed and strength" and join Hitler and his regime. He had the plan to get power by getting close to Hitler. At 19, Alexias joined the Third Reich.
Through his years with the Nazis, Alexias grew to hate his father and he killed indiscriminately...Jews, other minorities, people that opposed the Nazis, etc. As a demon, the bloodthirsty side of him loved the killing. However, his conscience broke through. During the Holocaust, instead of helping the Nazis mass-slaughter Jews, Alexias helped to free as many as he could without capture/exposure. He broke free from Hitler and the Third Reich, angering his father, with the rescued Jews. In 1945, Alexias had betrayed the Nazis to the Soviets, and was among them when Germany was overrun.
He lived his life free of his father, free of his obligations. He found that living under-the-radar was the best way to live, so to speak. Especially given that he wasn't a human. He worked for underground gangs in the beginning...as muscle-for-hire before deciding that he wanted to have his own empire. It took years of illegal activity, fear and trust, but he made his way to the top.
Nowadays, Alexias is the leader of the Bach Crime Syndicate, his headquarters currently based in Japan for different reasons. He changed his last name, instead taking the maiden name of his mother. He owns several "legit" businesses, and delves into drug and arms smuggling. He also works as a liaision between smaller gangs--to build trust, and even operates a small prostitution ring for pleasure.